👋🏻 Hello and welcome to this edition of Interesting Stuff, your fortnightly dose of things I think you'll find interesting if you're in the world of Azure, partners, small business, and Microsoft. I'm James Marshall, SMB Azure Partner Success Lead for the UK at Microsoft, and if you find this content useful please remember to subscribe and share this with your network. Thank you! 😎
In this edition, you'll find:
💭 My thoughts on the different strategies for pricing Azure solutions.
📝 A summary of the latest Azure updates.
📰 Interesting articles I've seen around the web.

Some Thoughts
If you've ever scratched your head and wondered how to make selling Azure a bit simpler, then this edition of Interesting Stuff is for you! By the time you've finished reading, you should have a good idea of two of the main ways you can take Azure solutions to market. Let's get started…
Cost + Margin
The method of applying a margin (or discount) to the consumed services bill each month has its pros and cons. The big benefit is it's agile, and well suited if you're designing bespoke solutions for your customers.
The downside is that it can expose a layer of volatility that creates overheads on your business each month. For example, local currency conversion fluctuates each month as the Pound Sterling changes versus the US Dollar. This means that over a 12 month period of unchanging Azure services use, the actual bill could be different every month.
A Small, Simplified Example
In the chart below, I've plotted what $1000 USD of Azure looks like in Pound Sterling over 12 months, accounting for FX changes each month and including a 5% profit margin on top. Over 12 months, the partner would make £486.06 of "profit" (not including any rebates, incentives, or other adjustments that happen in the back end).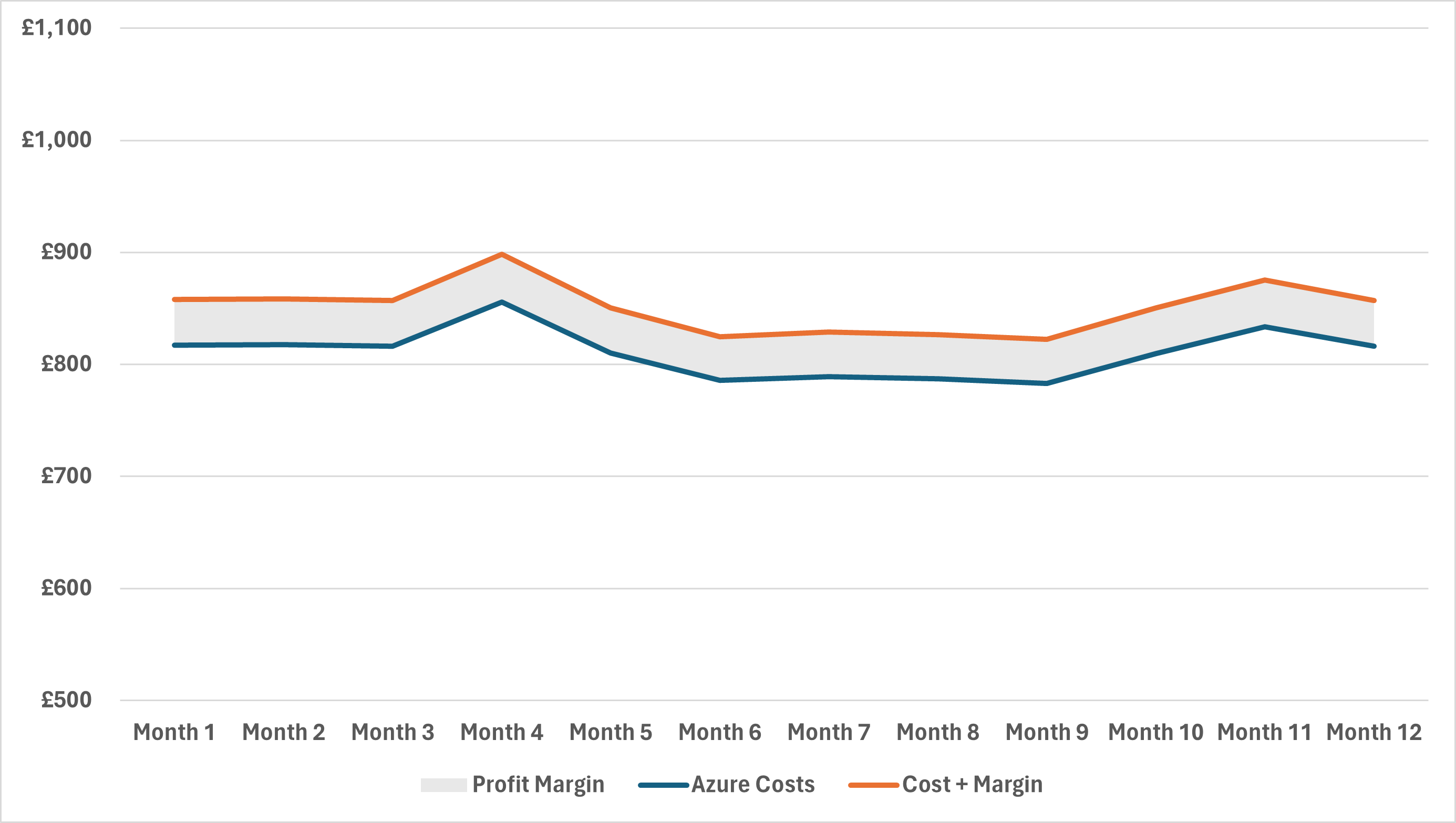 This fluctuation can make it harder to plan and forecast your business, especially if too much of your success is pegged against the Azure bill itself; if the customer reduces their spend, you see less profit each month. It also likely means you're either having to charge for the value you create separately, or perhaps try and squeeze it into the margin you add.
Value Based Pricing
There is another way to approach this; value-based pricing. Instead of applying a fixed margin on top of the cost of the Azure services, you could sell a "solution" that encompasses the service costs, your created value (like the managed services, support, IP, etc. that you deliver), margin, etc. for a fixed price. A bit like a bundle. A bit like a mobile phone tariff.
You could get an PAYG tariff and only ever pay for what you've used. However, if you take a contract it's likely you pay a fixed amount each month for a bundle of minutes, data, or other services. The cost to the operator to provide those services will go up and down over the months, but they'll have priced their bundle to account for that and still make them money.
Back to our fictitious example, where this time we'll sell a solution bundle that is priced at £1000 per month to the end-customer. We arrived at this price by understanding the value we create, the amount our target customers might be willing to pay for the business outcome, and other factors. It includes the same $1000 USD of Azure services but this time the customer doesn't need to worry as it's the same price every month. They're paying for the business outcome (e.g. inclusive of your services, IP, and other value added work), not just the raw services.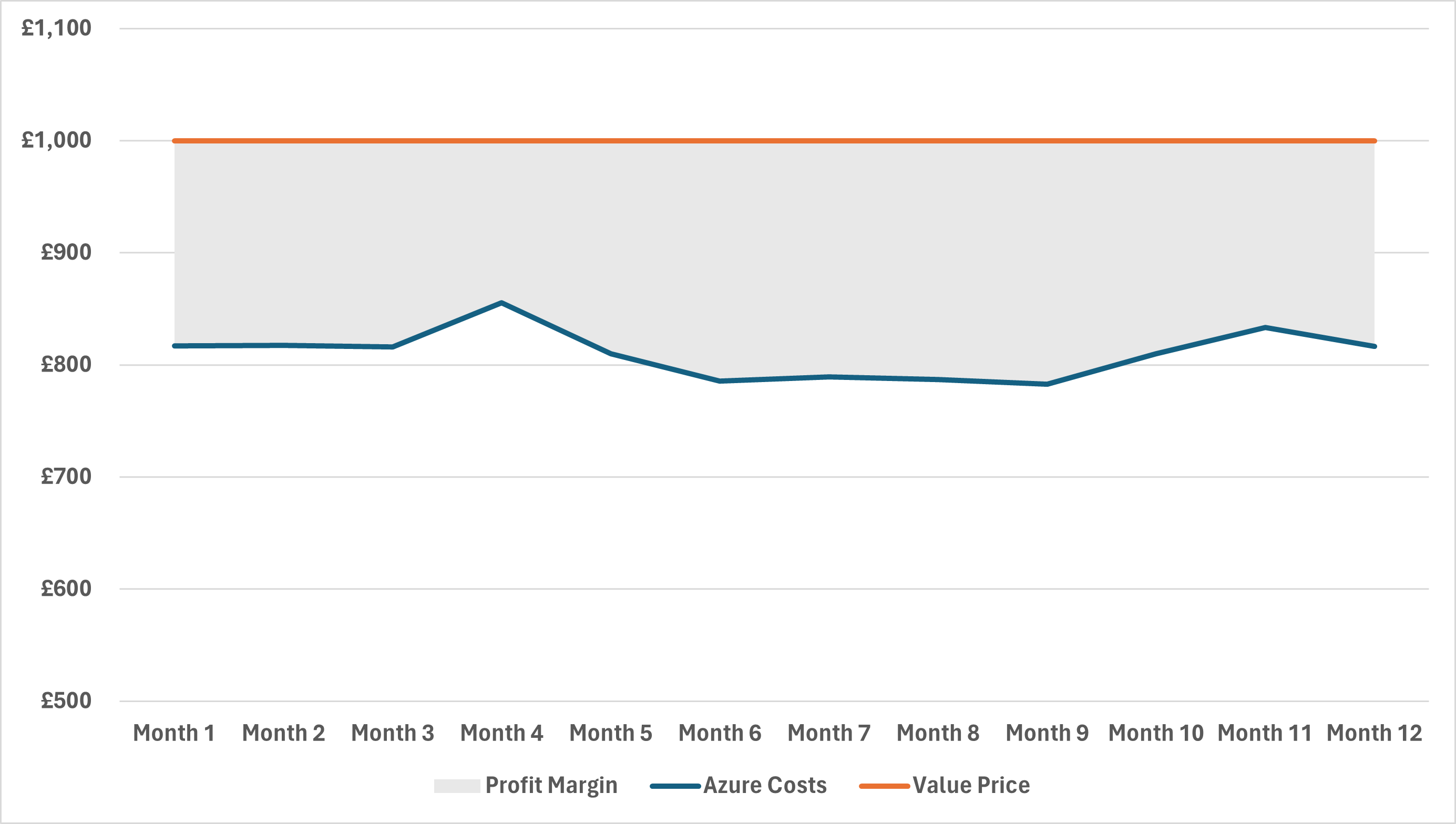 In this example, even though the underlying Azure bill changes each month, the partner would see an average profit margin of 24%, or £2,279 for the year. It shouldn't matter exactly how much Azure service is being consumed, because you're selling the overall value of your solution.
If the underlying Azure consumption rises through time, you may choose to revisit your pricing. For example, if you provide a managed backup solution and the customer ends up backing up huge amounts more data than your standard offer includes, you might 'upsell' another chunk of storage, or charge a per GB cost on top of your solution bundle price.
Have It Your Way
You could pick one or both of these strategies to go to market with Azure. The most successful partners create repeatable solutions, resorting to custom designs and bespoke pricing as little as possible. They also derive much of their profitability from the value created on top of the Azure consumption, not only relying on any back-end rebates or incentives. IDC estimates that by 2024, for every $1 of Microsoft revenue, there'll be up to $10.04 of partner ecosystem opportunity.
How much of that $10.04 are you capturing today? 🤔
Azure Updates
As ever, there's always something new to know, so here's a selection of updates you might find interesting: Get the digest!
Interesting Stuff from Others
How to in-place upgrade Windows Server in Microsoft Azure
Microsoft's Chief Evangelist for Azure Hybrid, Thomas Maurer, re-posted a blog to his timeline from earlier this year all about doing in-place upgrades on Windows Server on Azure. It's well worth checking out if you're wondering how it all works!
Until next time…
If you found this newsletter interesting, why share it with your network? I'd love to know your thoughts or suggestions for future topics in the comments below.